Developer: Nintendo R&D1, Intelligent Systems

Publisher: Nintendo

Released: 2003.2.7



Before the days of online distribution services like the Virtual Console or Xbox Live Arcade, companies loved repackaging their older video games into collections for other platforms - although the practice still continues today, it was rampant back then. Namco Museum, Midway Arcade Treasures, Sega Ages 2500 and the Classic NES Series lineup are a few examples of this. Before launching their trademark Virtual Console service(s), Nintendo released very few collections of their older games. Aside from the aforementioned Classic NES Series moniker and the Super Mario Advance series, playing these classic titles on then-modern consoles was not exactly a common-trope within the company. One compilation title, however, stands out amongst their previous attempts. Enter Nintendo Puzzle Collection.

Released exclusively in Japan for the GameCube, Nintendo Puzzle Collection includes three puzzle games (shocking, I know!) developed by Nintendo - Dr. Mario 64, Yoshi's Cookie, and Panel de Pon. And yes, this only got a release in Japan despite the fact all three of these games came out in Europe and America (not to mention all of these selling rather well). Original development documentation referred to this collection as Masterpiece Puzzle Collection, which was changed not too long after. There were also indeed plans to release this package outside Japan, as evident by bits of promo material around E3 - however, for seemingly unknown reasons, this remained confined to Japan.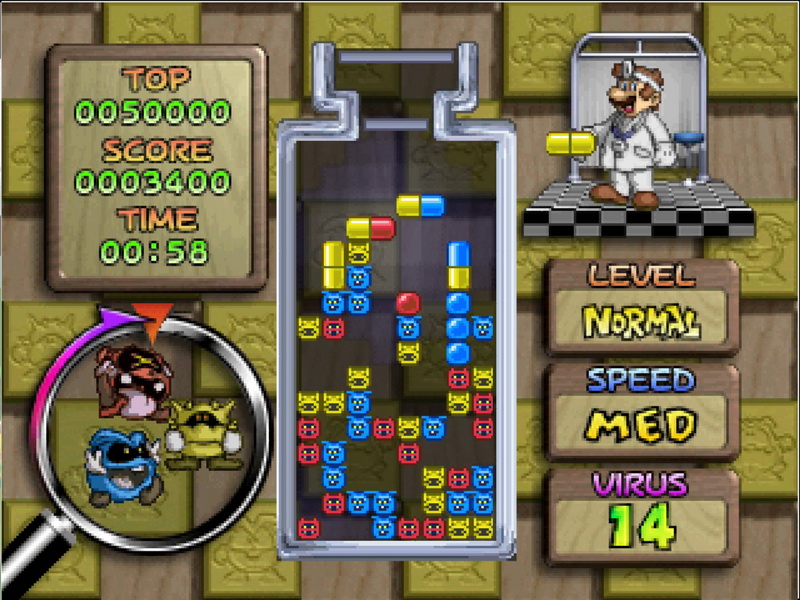 Let's dig into the meat of the collection - the games. Dr. Mario 64, simply referred as Dr. Mario in this collection, is the weakest of the three. It's quite literally a straight port of the Nintendo 64 sleeper hit but with really bad upscaled graphics. Everything looks rather pixelated and ugly, and is made even worse with the four-person multiplayer it possesses. Other than the terrible scaling, it's just Dr. Mario 64, complete with all the same features as its younger N64 brother. The graphic style is okay, as is the multiplayer mode, but the remixed music sounds too quiet, something I've never encountered before in a game. It's a fun game, yes, but there's better versions of this classic puzzler out there.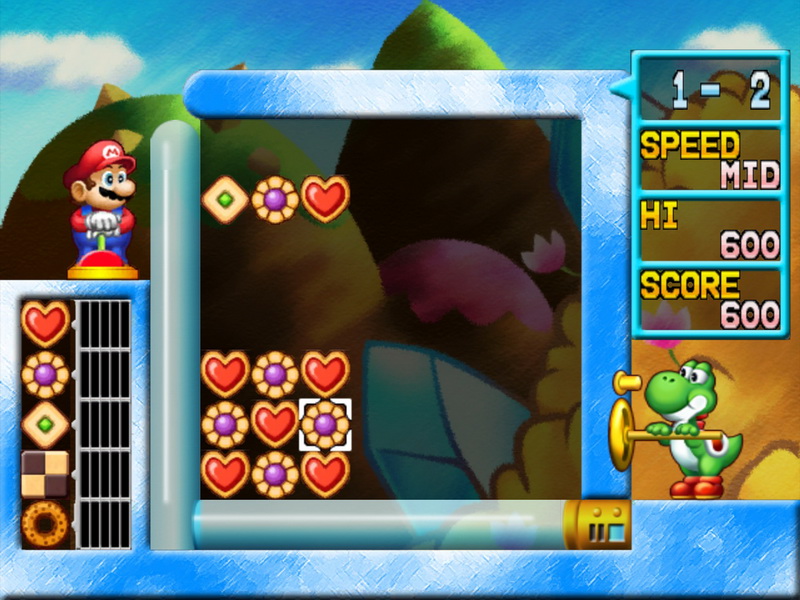 Yoshi's Cookie, a game I loved playing as a kid, looks gorgeous here. Much like the NES version, you're tasked to match lines of cookies either horizontal or vertically - if an entire row or column matches, it will be cleared as a new one takes its place. In the original NES release, Mario - in full chef gear - operated the levers used to move the cookies around, while this version added his trusty Yoshisaur Munchikoopas. The downside of this game is it's a bit boring as a single-player game - it's definitely fun, but won't really hold your interest longer than about fifteen minutes. As a multiplayer game however, it's a blast to play, coming with all sorts of game modes to try out with. The soundtrack is based on the NES version of the game, and sound great.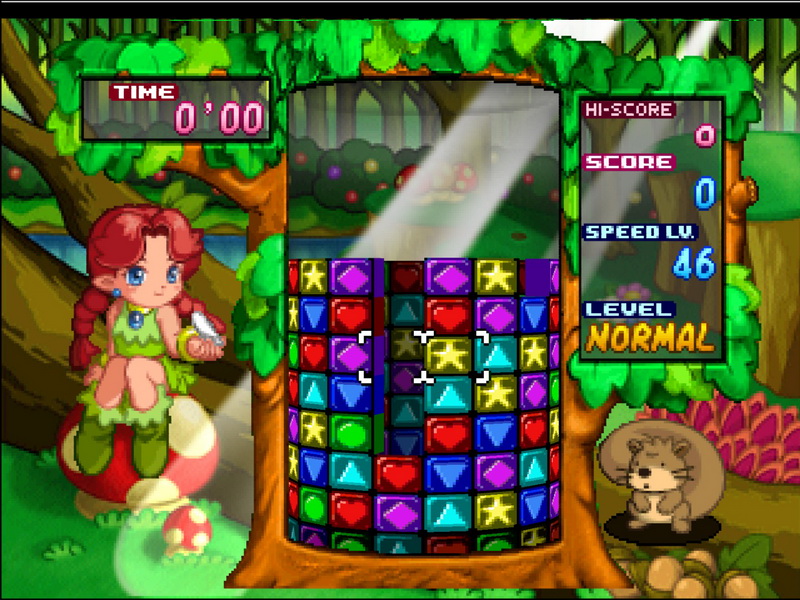 The real star of this collection, however, is Panel de Pon. If the screenshot above this wall of text looks rather familiar, you likely know this game by its international title, Tetris Attack. Gameplay is quite simply - match rows of blocks into three or more by swapping their placement on the game board. As easy as this might sound, it gets real challenging as blocks constantly make their way from the bottom of the board. The best part of this title is the slew of game modes included - a time attack, singleplayer campaign, versus mode, and plenty of others - one even makes the playfield a cylindrical tower, similar to the Tower Climber mode in Tetris Party. Soundtrack is excellent, featuring remixes of tunes from the original game. If that's just not enough, its also equipped with a level editor, giving you the power to make the craziest stages imaginable, and even save them on a memory card!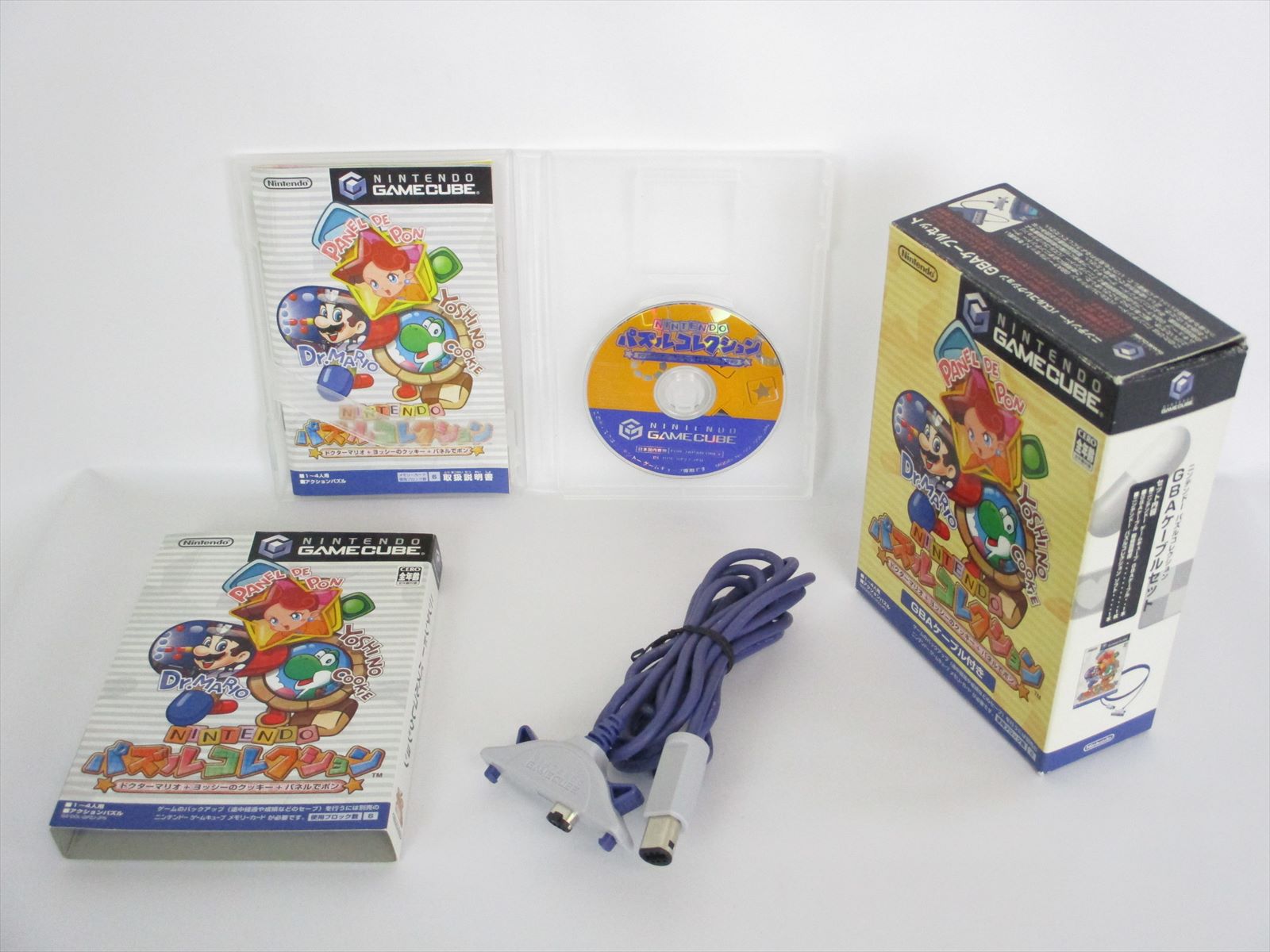 A rather cool inclusion is the ability to transfer either of the games to a Game Boy Advance via the GCN-GBA link cable peripheral, allowing you to take your favorite game on a trip or wherever. Dr. Mario and Yoshi's Cookie are direct ports of the NES versions, complete with that infamous screen-squashing, while Panel de Pon features a totally brand-new port. All of these ports are single-player however, and will be wiped clean from your system once you flick off the power button. In fact, Nintendo released a limited-edition version of the game that bundled the GCN-GBA cable with the game, which is convenient. As much as the bonus feature here are cool, there could be a bit of improvement, mainly in the game library - a larger selection of titles would certainly be nice to have, or at the very least have the original versions be playable as extras. One could make the argument that Nintendo's version of Tetris should have been included, however I'm sure licensing was a deal-breaker, and it's not even a first-party Nintendo title anyway, so its exclusion here is excusable.



Final comments

Even with their issues, all three of these games are worth playing, especially with friends - Panel de Pon is the jewel of the collection, and that and its extra features makes the collection worth it alone. The bonus content is very welcomed, as is the newly-crafted soundtrack. Three games might be a bit lously for a collection, but when the games are so much fun to play, and are bloated with content and extras, it's hard not to justify a purchase. It definitely should have gotten a release outside Japan. As such, Nintendo Puzzle Collection is absolutely worth having in your import collection.


Last updated 2019.6.7